WORDS: Yahdon Israel PHOTOGRAPHY: Julien Roubinet
To this day, yarn-bomber London Kaye only does one stitch. One anyone can do. It's the shortest and most basic stitch. And while there are people whose talent lies in making what they're good at look easy—like dunking a basketball, or being a five-star chef—London's gift is making the very possible look like it can only be done by her: the single crochet.
Born and raised near Malibu Beach, California, the single crochet was the stitch her best friend's mom taught her and her best friend on a whim one day when London was 13. This is the same stitch she used to make and sell custom scarves to the girls in her dance studio—the first one selling for $2. It's the same stitch she learned to fall in love with when she hurt her back in the 9th grade, couldn't dance for 9 months, and had little else to depend on. London used this stitch to fortify her creativity, spirit, and recovering body. With an injured back, London still managed to peddle 600 scarves through her high school, affording her the luxury of buying her first car, a Jeep Liberty with Jurassic Park light on top. She was 16.
London's back had healed around this time. She could dance again, but with arthritis formed in the places of that were once fluid, the movements didn't come as easy. This may have stiffened London's hopes of becoming a professional dancer but by then, she was flexible with her aspirations, and resilient enough to win a full dancing scholarship to NYU in 2007. An easy choice for her to attend, as New York had been somewhere she always wanted to be.
While working at the Apple Store in 2010, London met Olek, the Polish-born artist who'd become known for covering buildings, sculptures, people and objects in crochet. Helping Olek set up her Macbook, London noticed Olek's crocheted handbag. When London asked Olek where she got her bag, Olek responded that she made it. London had seen crochet. She had even done it. But not like this.
London googled Olek and immediately became aware of the art of yarn bombing. Soon after, she took a scarf she crocheted and wrapped it around a tree outside of her Brooklyn apartment. London noticed a grandmother talking about the scarf covered tree with her grandkids. What London realized watching the interaction was instead of the excitement flowing from the grandmother; it was her grandkids. That was all London needed to see.
Since then, London has used crochet as her medium to deliver the fundamental message that joy, beauty, and happiness can be found anywhere we're willing to look. It may come in the form of a mermaid, cover a school bus, or a 42nd Street billboard ad. Joy may even randomly spill from a New York City street pipe. All of this, and more, has been made possible, with a single crotchet.
We met up London at her studio in Bushwick, Brooklyn where we talked about her first make; the responsibility artist are to have and take for the communities they work in and how one single crotchet can make all the difference.
What was the first thing you remember making?
My earliest memories of making was being at the beach with my mom when I was two.We used to live right near the beach on Malibu. One day my mom told me to go and collect all the things I could find that I thought was pretty—sticks, seashells, crab shells, whatever it was.
We met back. Put it all together, and it was this beautiful sea sculpture. It was the first time I was able to be creative. It also means a lot to me because the beach is one of favorite places. Whenever I think about the beach, there's all these happy memories. This is one of my happiest.
Why do you what you do?
I really love being able to take people out of their everyday. When you see street art, it makes you stop; brings you directly into the present moment, if only for a moment. This is especially true when street art is made with something people usually don't see all the time, like yarn.
Many people are used to seeing yarn as this nostalgic thing you do with your grandma. Now they're seeing it reinvented in a new way. I like the idea of being able to spark an internal conversation that a person wasn't expecting to have when they woke up that day. On another note crocheting requires so much patience. The patience helps me be present. I have to be aware of what I'm making, how many stitches I've done, and where I'm going next.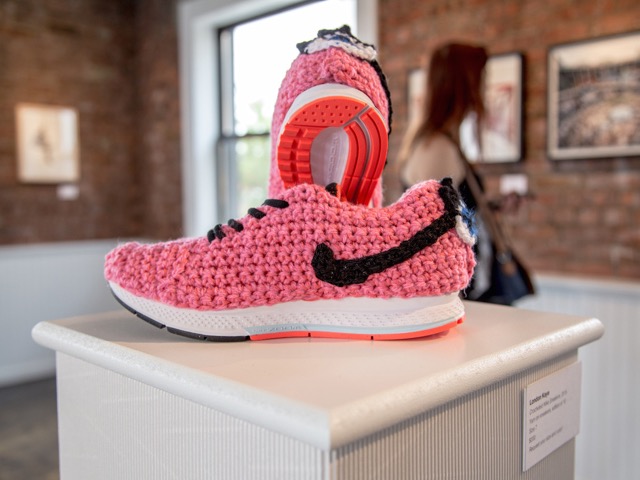 How do you decide what you're going to make? What's your making process?
Current events, pop culture, holidays are great inspiration. I've always loved looking at pictures online; funny images, anything that's going on at that time which interests me.
Every morning, I wake up and write 10 things I'm thankful for. It's like part of me as a person. At the end of the day, I try to mediate on my favorite thing that happened that day. It's my way of reminding myself that there is always to be appreciative for.

I always go out in the middle of the day so it looks like I'm not doing anything. Let's say I was going to hang up a star. I would crochet the star here, in my studio, cut ties and fasten them to the piece before I go out on all 5 corners. When I go up to the fence, all I do is tie it on the chain link, cut the strings, leave a tag, and I'm out.
Where do you draw your inspiration?
I like the idea of the world being a more happy and joyful place. Everything I make is going to have some form of light-hearted, whimsical, fun. I truly believe that the more you put joy into world, the more joy will be brought out. Joy is where it all starts for me. That's the bottom line: it's gotta make people happy.
What is the most surprising bit of feedback you got from what you do?
It was surprising when comments people were making went from just saying things like, "I like what you do" to "You're inspiring me." I was blown away. When I receive those sorts of comments, I'm always surprised that somehow me doing what I love to do for me inspires other people.
I'm also surprised when I hear that I've inspired someone to pick up a crochet hook and start crocheting. Or to take a chance and do something with yarn that they never thought they'd do. I never thought I could be in a position like that. I couldn't ask for better feedback.
If there were something you wish you would've known sooner as a maker, what would it have been?
Implementing positive affirmations and being able to visualize an outcome before it's done. To be able to see the final product in your mind. The confidence to say look at your work and say to yourself, "Ooh this is a good one!" goes a long way.
If you work on something really, really, hard, you can't expect to receive praise from other people. Be confident in yourself that you've done the work and it's done. It doesn't matter what the feedback is from the world. Be confident enough in the work for yourself. That it doesn't matter what the feedback is from the others. Those are the things I wish I would've and known sooner as a maker.
What's a meaningful mistake you've made?
Last year I was in the middle of this gentrification controversy, where the owner of a nearby flea market asked me to do a crocheted mural there but he didn't get permission from the building owner for this mural to take place.
The mural was not my best work, by any means, which was another fail. Usually I make cool things, like mermaids and stuff. In this case I made the two twins from The Shining, holding hands with a character from the Wes Anderson movie, Moonshine Kingdom. Some weird love triangle thing. I thought it was cool but the aesthetic wasn't right for the neighborhood it was in. The community was angry and had a right to be. The mural was taken down shortly after.
And it's made me think about how much my work could affect a community. Bushwick is a neighborhood that celebrates art, but it also celebrates art that reflects the community. It was a huge, huge teaching moment. I need to put more thought into where I'm putting my work, what's the meaning behind what I'm making. Now when I create, I ask myself more than just, "What can I make?" I'm beginning to ask what a community, I'd potentially make in, wants to look at every day.

Tell us about your capsule collection collaboration with Red Valentino.
Red Valentino is Valentino's brand for younger girls. The relationship started out as a live installation they asked me to do for one of their new stores that opened in Rome. They really liked the installation. So I did window displays for 15 other stores around the world. They had another opening in London where they asked me if I wanted to collaborate on an actual collection and I was like, "Of course!"
At first I had just handed them tons of drawings but they knew what they wanted. They knew they wanted it to be a face. And they knew they wanted it to be a girl's face. I used the app, Paper53, to come up with some designs for what they wanted while also capturing that light-heartedness I try to bring to my work and they loved it.
I'm so grateful because it's truly putting my street art on a collection of clothes. If you look at it, you know it's London Kaye. At least I do. I've worn the pieces around and people stop me all the time, asking where I got it from. It feels good to know that you've made something that people love and enjoy. Feels even better when you can enjoy them yourself.
Do you have a team that you work with, or do you everything yourself?
All my street art is just me but the big projects are different. Last year, for example, I did a billboard in Times Square. It was a holiday project for Miller Lite, where we had 3 weeks to crochet this 50 x 25ft Ugly Christmas Sweater and there was no way I could've done that by myself. So I had a nice amount of people. It's nice to be able to have a team. The first time I realized I couldn't do it all by myself, I used my Instagram page to ask for help because I didn't know what to else do. So many people reached out. A lot of them were local crocheters which was pretty cool. And it provided a sense of community.
What's the last thing you made?
After constantly being frustrated by the hooks I used to use for crotcheting, I decided to make my own line of 3D Printed Crotchet Hooks. When I would have people work for me on projects, we'd use these hooks that weren't really efficient. I got to a point where I felt I could make a better hook.
I was so jazzed about 3D printing and a friend of mine was really good at modeling. We've been working on these hooks for over a year. And finally we're at a place where we feel good to go. Eventually we're going to have them in every color to give people options but this all started because I wanted to make something better for the people that were helping me out.
What do you feel like you need to continue making?
I need to continue pushing the limit; pushing what I can do. I had this project where I attempted to crochet this long ethernet cable. It didn't go well, but I haven't given up. I don't want to get stuck in doing one thing over and over and me getting bored. I like to think about ways to further my craft and creativity, ways to surprise and challenge myself. Force myself out of my comfort zone.
What has making taught you about yourself and about others?
I learned that what I do definitely appeals to more than a niche group of people. I was on the subway one time and this guy, who looked like he was in his 20s, recognized me. because people don't recognize me. He approached me and said, "You're the cool girl that crochets!" I sort of imagined teenage girls and old women liking what I do. It's pleasantly surprising that it's broader than that.
Also with crochet, I've learned that there's so many different ways to use it. I never imagined that there were so many opportunities. I was so focused on seeing crotchet in only the ways it's been traditionally used; it never occurred to me that you could do more. I was very close-minded to the possibilities. Never again.
MakersFinders is a digital platform that connects independent makers to passionate finders.
We have an app in private beta. We publish stories. We host events. And provide quarterly grants for our community of Makers and Finders.
Our team is dedicated to cultivating and connecting communities across various industries and cultures.