WORDS: Yahdon Israel
PHOTOGRAPHY: Mari Juliano
Earlier this year MakersFinders' founder, Jill Andresevic, joined me on a trip to the Capsule Women's Show at Clarkson Square in West Soho, NYC to find more Makers whose makes and stories deepen our own knowledge of the culture we're helping to cultivate and contribute to.
When we attended the Men's Capsule Show in January, we found 5 Makers who managed the difficult task of being outstanding in a room full of stand outs. And now we're back with 7 more Makers who are bringing depth, breadth, and kick ass concepts to the wonderful world of womenswear. From sneakers inspired by Japanese minimalism to handmade portal bracelets that shoot us into other dimensions, here are the Makers2Know!
On They:
We make leather sneakers inspired by Japanese minimalism and German Baohaus design. We are based in New York City.
On why they make:
We wanted to create something that is austerely simple and still captivating. Our family has been in the Japanese shoe-making industry for three generations, and my brother and I wanted to create something that uniquely represents the aesthetic and style we appreciate.
On their Circle Lows:
Our Circle Lows are one of our most popular styles from our Core collection. For this season, we experimented with new materials such as canvas and suede, while also offering our signature leather options as well, but with new colorways.
The design of the sneakers may look simple, but it is deceivingly complex to construct. Due to the nature of the design that extends to the sole, we developed a patented technique where each individual custom made rubber sole has to be hand-aligned to the upper (top half of the shoe) in order to ensure the fluidity of the design is not interrupted.
On Capsule:
We are a fairly new brand and just launched our second season. We are hoping to reach a larger audience by coming to Capsule and begin building relationships.
On why she makes:
I am inspired by energy, beauty and the timeless. Jewelry is not only an accessory, but an artform and object passed through generations. An inheritance.
On the Portal Bracelet:
The Portal bracelet is part of the Eye Am collection. Inspired by ancient Egypt and the Isis Oracle. Portal is a door, an openness to a new experience, a bravery into the unknown.
On the Capsule Women's Show:
It was my very first trade show! Capsule is one of the most acclaimed trade shows for new talent and independent designers.
On House of 950:
The collection is mostly separates that can be mixed and matched. It's an exploration of color, line, shape and form. I make an effort to not saturate myself with images from fashion. I want to create an authentic voice free from references.
On why he makes:
There is this drive inside of me. I have no idea where it comes from, but if I'm not turning my ideas into clothing, it feels like a part of me is being suppressed. There have been times where I was thinking I should just stop, but then I can't. I think with anything that you are creating that comes from within, it's hard when what you create isn't received as well or the recognition doesn't happen as fast as you'd like. Everything takes time. I'm coming to terms with that.
On the Twist Dress:
This dress (twist dress) is a pattern making concept of mirrored images, just constructed differently on one side so that it is able to "twist" into the dress. Many pieces from the brand have an interactive feeling, where the clothing takes shape once the person puts it on. It creates a feeling of exploration and discovery so people can create their own way of wearing it.
On Capsule:
Garmentory asked me if I would like to join their section of designers they were curating at Capsule, and I said yes! It really felt like the collaboration of like-minded individuals, which was the best part. Because this was a group effort, it made the experience way more enjoyable!
On where House of 950 can be found:
Website: www.shophouseof950.com
Instagram: @houseof950
Facebook: @houseof95
On Alexa Stark:
Clothing used and ethically sourced new material. All clothing is designed and produced locally in America. Portland, Oregon.
On why she makes:
My work speaks to the environment, women and small business. I believe it is a designer's responsibility to create awareness. Whether that's through the product itself or the message told through marketing. Art and design have the power to present to the world social justice, environmental and political views because it is in appearance to the eye or mind in every moment of our day. Through the power of social media and publications we can be seen and heard. It is our responsibility to use these tools to teach.
On Against the World:
Against the World is contemporary women's wear line. Basically, girls who are go-getters. It stemmed from me wanting to make something that women feel like entirely proud of and like super excited to wear that's not men's wear. A lot of the time I feel more confident in men's wear and I wanted to extend that confidence to women's clothes.
I want to make something that's popping that looks unisex, but is really for women. The same way women have to oftentimes go to men's clothes. We want men to come to the women's clothes.
On why they make:
The reason why I make clothes is because I want to see people the way I envision them.
I make clothes specifically because, as I said earlier, I want to bring that confidence and comfortability to women's wear that I see exist in menswear.
On the bondage jacket:
This is like more hardcore piece of the collection. We wanted to make something out of sort level up.
We were just talking about straps because we did these pants for a collection last Spring/Summer. So we made a jacket to go with the pants.
On Capsule:
It's progressive. You see a lot of people, and not everything's the same. You have your almost couture brands and then you have your very street brands. And I would say we're somewhere in the middle so we can meet any type of buyer or stylist that's looking for anything in between.
On where Against the World can be found:
Instagram: @atw.inc
On FORS NOME:
In Denmark there is not many brands who are unique. It's a lot of mainstream clothes. I want to do something different. I worked for a mainstream brand, but it was too boring for me. I want to be my own boss, and make crazy clothes. "FORS" is the first part of our last name. "NOME" is like being numb, you don't have any feelings. Together it means that we're numb to what goes on around us, and are just feeling what we make.
On why she makes:
We believe that your choice of clothing shows your personality, and that clothing develops its own personal identity that comes from within. This is the foundational belief at FORS NOME. We want to challenge people with our designs and encourage them to try something new and bold, something with kinetic energy and spark and possibility.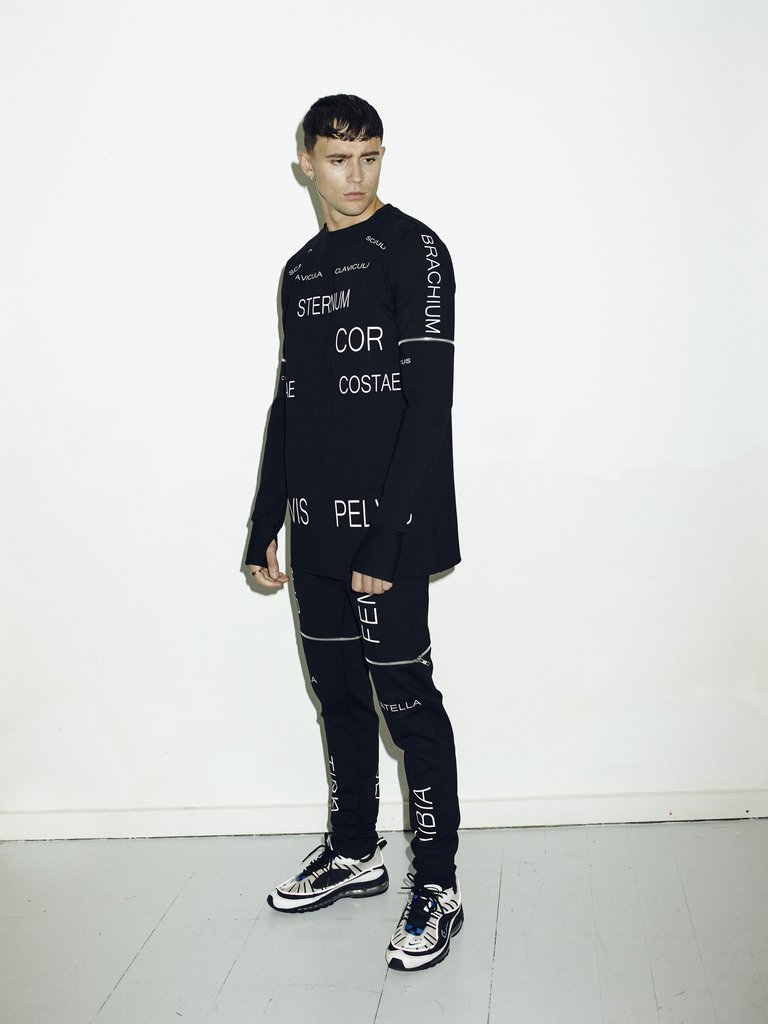 On the fax-fur coat:
It's difficult. I wanted to make a coat that could have several looks. I always think it's funny to combine things. And change looks wherever you want. That's why we chose the wool and the fake fur.
On Third Crown:
Third Crown was born from the idea of two design creatives coming together to form a third entity. The Third Crown brand. So in that, we design everything from a men and women's design prospective. A lot of our pieces are seen as unisex, and can be worn that way also.
You can tell that we use triangles to form the crown. This was three triangles that form one crown. And really when coming up with the idea of the name, it just sort of made sense to be using a triangle, at all three points so, it's two joining together to form one. That's really how it all came about.